The Battery at Park West, Mount Pleasant
The Battery at Park West in Mount Pleasant is a new gated condominium community that literally has something to offer for every lifestyle. Idyllically nestled on a gorgeous 30-acre wooded site, it is common to see a hawk casually performing an aerial ballet against a pristine blue sky or a group of turtles sunning beside one of the many picturesque landscape ponds.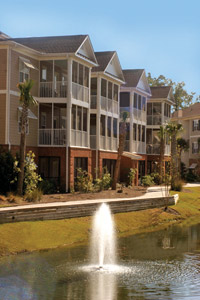 Developed by The Wrenn Group, the inspiration for The Battery comes from visionary Chairman and CEO Ray Wrenn, who longed to create "an intimate walkable community that is suited to accommodate the many divergent lifestyles our residents lead."
As you enter the community's striking clubhouse, the sun streams through the cathedral ceiling's oversized windows. A fitness room, game tables, refreshment bar and magnificent media room help make the clubhouse the social center of The Battery.
Around the cleverly designed pool, which is reminiscent of a jigsaw puzzle, is a popular outdoor grilling station. There is plenty of cement skirting around the pool for sunbathers and beautiful landscaping, and a stunning fountain provides soothing sounds to those seeking respite from a hectic day.
Offered in one-, two- and three-bedroom floor plans, each unit is built with attention to quality and detail that is second to none. If you search for homes in Mount Pleasant you may find The Battery at Park West is suited to your lifestyle.
"I wanted to provide a community that is absolutely first-rate and that any owner can be proud of," Wrenn says. "We have used premium materials and our buildings even offer elevators. We are also extremely proud of the custom fittings, top-brand appliances, crown molding, hardwood floors and heavy amenities we offer at The Battery."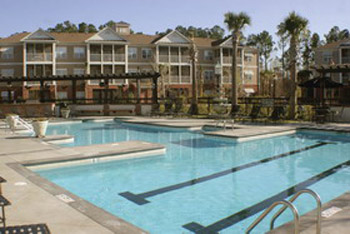 On-site realtor Kerri Mahoney points out that "as you can see, our homes all have screened-in porches, which is such a part of Lowcountry life. One great thing about the Battery is that the owners can use gas barbecues without leaving the comfort of their homes."
Wrenn says the main reason he chose this area to develop The Battery was its "location inside Park West and all the shopping, amenities and services it offers. Plus, we are just a few miles from downtown Charleston, Towne Centre, the beaches and the rest of Mount Pleasant."
Several of the other amenities offered at The Battery include Aunt Bea's Garden, where residents with – and without – green thumbs are encouraged to enjoy the fun of gardening; the Bark and Bubbles pet cleaning area; and Wrenn's favorite, the Oyster Pavilion, which features a large outdoor grill.