East Cooper Icons

The East Cooper area has grown from a suburb of Charleston into quite a metropolitan area in the last couple of decades. New neighborhoods have sprung up almost overnight, bringing wide new roads lined with shops and restaurants. There's so much to do and see but when you tire of the everyday pursuits, here's an idea. Take a little trip back in time. Visit some of the places that mean "Mount Pleasant and the Islands" to old timers and newcomers alike.
Charleston may be known as the Holy City, but there are plenty of historic churches to discover in Mount Pleasant. One of the best known is Christ Episcopal Church, which dates back to the early 1700s. Christ Church was one of 10 parishes created by the Church Act of 1706; a simple wooden building was erected for services. After the original church burned to the ground in 1725, it was replaced by the simple brick structure that still remains.
In the ensuing years, the church was burned by the British and, later, gutted by Union troops. Though it survived and was repaired, the congregation grew smaller and services ceased altogether in 1874. The church and grounds fell into disrepair, and it was not until 1923 that a restoration project began. Services began again in the mid-50s and continue to this day. The church and surrounding land is an oasis along busy Highway 17 North and well worth a stop. As you wander through the church yard, you may recognize many old Mount Pleasant family names.
Drive a little further north on Highway 17 and you'll soon come across the "basket ladies," whose families have been making sweetgrass baskets for generations. This art form, which has its roots in Africa, was brought to the Lowcountry by slaves. Using materials native to the region, including sweetgrass, pine needles and palmetto strips, these artisans create beautiful baskets in every shape and size. You might find these baskets a little pricey at first look, but go ahead and treat yourself. These baskets will last a lifetime, with proper care, and even increase in value. How often do you get a chanceto own a museum quality piece?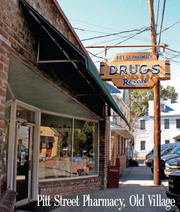 If you'd really like to take a trip to a time gone by, don't miss Mount Pleasant's Old Village, where old historic homes jostle with their modern neighbors. This is the kind of neighborhood where people walk or bike to the original "business area." Though only a block long, Pitt Street is still a thriving business center, featuring an upscale restaurant/bed and breakfast along with little shops and galleries. Don't miss the Pitt Street Pharmacy, where you can stop in for a hot dog and soda—a genuine fountain soda, for those who can remember such a thing! Pitt Street Pharmacy, Old Village Alhambra Hall Much of the Old Village area is along the waterfront, although it can be hard to get more than a glimpse here and there as you drive along narrow tree-shaded streets. A spectacular view of the harbor and the Holy City itself awaits you at Alhambra Hall. You can walk around the grounds and enjoy the breeze. It's a popular place for events such as the annual Blessing of the Fleet and is much in demand for weddings and receptions. Take a peek inside and you'll see why—vaulted ceilings, hardwood floors and wide porches make this former ferry terminal a southern classic.
Not far from Alhambra Hall is another great spot where you can enjoy a different side of Mount Pleasant. The old Pitt Street Bridge was replaced many years ago by the Ben Sawyer Bridge, but the remains are still there.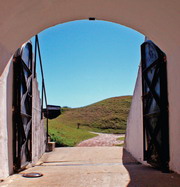 This area teems with all sorts of wildlife, from tiny fiddler crabs to majestic water birds. It's a favored fishing place, as well. From the Pitt Street Bridge, you can almost see another East Cooper icon. It's well worth the trip to Sullivan's Island to pay a visit to Chief Osceola at Fort Moultrie (map link). The Seminole Indian chief is buried on the grounds, at the entrance to the fort. Named for Colonel William Moultrie, the fort was created with palmetto logs and sand, and it dates back to the Revolutionary War. The current structure was built in 1809 and served as home base to likes of General Sherman, of Civil War fame, and Edgar Allan Poe, who used Lowcountry settings in some of his work. There's quite a lot history to be enjoyed here, and you'll want to take it all in.
For a slightly different East Cooper treat, pay a visit to Page's Thieves Market. Almost on the edge of Mount Pleasant, before you get on the causeway, Page's has an assortment of cool and funky things that you may or may not need—but there's so much fun just looking around. It's been a regular place for locals to buy and sell for decades. And, if you don't find something this time around, stop by in a week or two for a new selection and to fi nd out when Linda Page's next auction will take place. East Cooper? There's so much to explore!