I'On, Mount Pleasant
It is an idyllic place to live. I'On, a small village nestled just off Mathis Ferry road in Mount Pleasant, was designed to foster neighborliness and a real sense of community.
I'On homes are built in the style of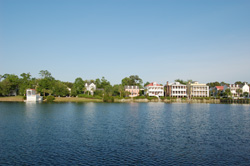 old Charleston and accented with porches where friends congregate to enjoy pleasant breezes and catch up on neighborhood news. I'On is divided into several distinct boroughs with homes ranging in price from about $500,000 to $3,000,000 which makes living there a viable option for many buyers considering Mount Pleasant.
Developed originally as a walking community, I'On has more than fulfilled its mission to create an alternative to urban sprawl. Houses sit close together intending to foster friendship and good neighbors. And there are plenty of sidewalks to invite evening strolls and and the day-to-day contact that is so important to the residents of I'On.
A delightful town square, anchored by The Inn at I'On and Jacob's Kitchen, features a variety of boutiques and shops including The Square Onion where you can pick up a tasty takeout or O'Briens, the local pub, where neighbors convene for a casual meal or just to socialize.
Catha Remington, a Realtor with Carolina One Real Estate and Mortgage, and a current homeowner in I'On, can't say enough about the wonderful lifestyle here.
"I came from New Jersey and l began searching up and down the East coast thinking when I began looking of settling in Wilmington, North Carolina or Florida where one of my daughters lives. Upon visiting Kiawah, where her family had vacationed several years, Remington explained " On my way out of Charleston, I toured I'On and as I pulled into the community I remember saying oh, I could live here."
"I really looked at this community," Remington added. "I drove through in the morning, at noon and in the evening and then asked residents what made I'On special to them. I liked their answers! "
What I'On offers is more than a home. The lifestyle is the big draw and has many attractive facets. I'On has traditional amenities such as pools and tennis courts, an exercise facility as well as walking trails ad The Rookery, a haven for dozens of species of birds.
But beyond outdoor activities such as fishing from one of the six community docks and kayaking on the lake, residents enjoy getting together for a variety of social events including monthly coffees, lectures, art associations, book clubs and supper groups.
"The best event is First Fridays," Remington said. "Everyone brings an appetizer and their favorite drink and we just all socialize. Often we have as many as 80 people."
Several times during the year, I'On puts on programs such as concerts or holiday events which are open to the public. Residents of I'On have access to the Creek Club, a lovely building often used for weddings and other special occasions. Set along the creek with landscaping indigenous to the south, the Creek club is an exceptional backdrop for any social gathering.
Beautiful homes, lush surroundings, congenial neighbors, an abundance of recreational activities and easy access to Charleston make I'On quite possibly the perfect place to live.
Because of those attributes I'On has received numerous accolades from organizations such as the Department of Natural Resources and Charleston Trident Homebuilders Association for its ground breaking design.
But the real winners are the people who discover the lifestyle that is uniquely I'On.

Is I'On for you? Find out more by contacting Catha Remington at (843)697-1667 or (843)849-5212 or email her at [email protected].