I'On Lifestyle is Very Eventful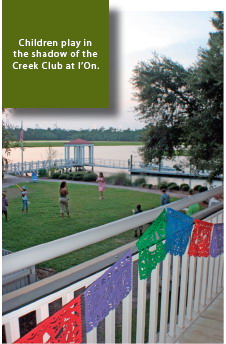 I'On presents a modern take on an old-fashioned concept, featuring old-Charleston-style homes on tree-lined streets, an air of neighborliness and an array of special gatherings. Since many of them are open to the general public, even people who are not residents of the Mount Pleasant neighborhood have ample opportunity to experience the I'On lifestyle.
Some special events actually take place outside the confi nes of I'On, such as the Halloween treat "Poe— Back from the Grave," marking the anniversary of Edgar Allen Poe's death and taking place on Sullivan's Island, where the prolif c writer spent time serving his country.
Other events are less eerie but guaranteed to provide a fun time for all who attend. Thursdays in October are set aside for "Markets in the Square," while First Friday draws a crowd for a cocktail party each month. On a lighter note, every second Tuesday is set aside for a women's coffee. While some events are solely for I'On residents, others, such as the Thursday markets, are designed to encourage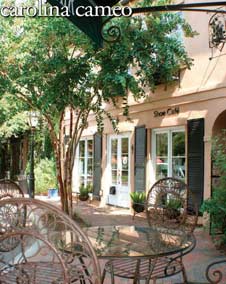 participation from the general public.
If music is your love, you'll want to learn more about I'Onissimo. For the last four years, talented I'On residents and friends from "outside" have taken great pleasure in presenting community concerts for all to enjoy. From a small, core group, I'Onissimo has grown to more than 35 musicians and is believed to be the only neighborhood- based organization of its type in South Carolina. Supported by the I'On Trust, I'Onissimo is dedicated to bringing music to adults and children in a relaxed, friendly atmosphere.
I'On offers so much more than music. The event schedule includes a quarterly lecture series and holiday celebrations such as the Fourth of July CelebratI'On, which features a parade, fireworks and a band blast. During the Christmas season, you'll have the chance to enjoy the Holiday Tour of Homes.
Members-only events include Kids Night Out, oyster roasts, margarita mixers and a New Year's party. Located on Hobcaw Creek, the Creek Club offers fabulous views of the surrounding marshes from spacious porches. It is the perfect place to plan a special event—for instance, a wedding or something more casual, like an oyster roast. The Creek Club is available to the public, and fees and requirements are posted on the Web for your convenience.
For additional information on I'On community events, visit www.IonCommunity.com and www.IonBizNet.com.