Karen's Korner Frame and Art Gallery, Mount Pleasant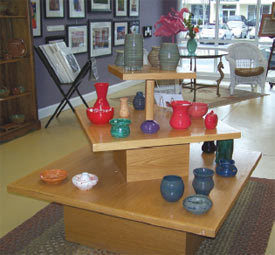 With walls covered with beautiful interpretations of the Lowcountry, Karen's Korner is a breath of fresh air. Twelve different artists are represented, each offering their own view of the beaches, marshes and landmarks of coastal Carolina. There are original paintings in oil and in watercolor, as well as framed photographs that reflect the many moods of the region. Other artists have produced sculpture and pottery.
Karen Boals, owner of Karen's Korner Frame and Art Gallery, enjoys showcasing the work of local artists. She pointed out the fine photography of Marc Epstein and Scott Henderson, along with short anecdotes about each one, before moving on to a display of exquisite pottery.
"This is by Matt Hunnicutt," Karen said. "He's only 17 and has been creating pottery since he was 5. He's very talented."
Original paintings also are available in a variety of styles, from classic scenes to explosions of color. Artists include Carol Ann Curran and her son, Kevin Curran, who sometimes choose similar subjects to paint but who bring very different styles to their work.

But lovely discoveries are not all that is in store at Karen's Korner; Karen and custom framer Terri Schlein take the art of framing to a higher level. With hundreds of moldings from which to choose, even a simple frame job can seem overwhelming. When asked what is most important at Karen's Korner, Terri is quick to say "personal service."
"We know how to manage the chaos," Terri laughed. "We're happy to help choose the frame or, if people have special requests, we'll help them find whatever they want."
Both Karen and Terri agree that a frame should enhance the art rather than compete with it.
"No one should say 'that's a beautiful frame'," Karen said. "The frame and art should work together seamlessly."
In addition to a large selection of moldings – from Roma, a premier molding, to frames suitable for your child's artwork – Terri and Karen offer custom framing services such as French matting and shadow boxes.
"Art is an emotional thing," Terri said. "There is often a story behind what is being framed."
With nearly 50 years of framing experience between them, Karen and Terri take great pride in making customers happy.
That is an art in itself.
Karen's Korner Frame and Art Gallery is located in the Gateway to the Beach shopping center at 1405 Ben Sawyer Blvd. Store hours are 10 a.m. to 6 p.m. Monday through Friday and 10 a.m. to 4 p.m. on Saturday. For more information, visit www.KarensKornerFrameAndArt.com.